Transform Your Sales Results with a Systems Approach – Part 4: Sales Learning
In Part 1 of this series, I shared that the solution to our current sales problems and the vehicle for transforming your sales results is a Systems Approach to Sales. The four systems I cited are: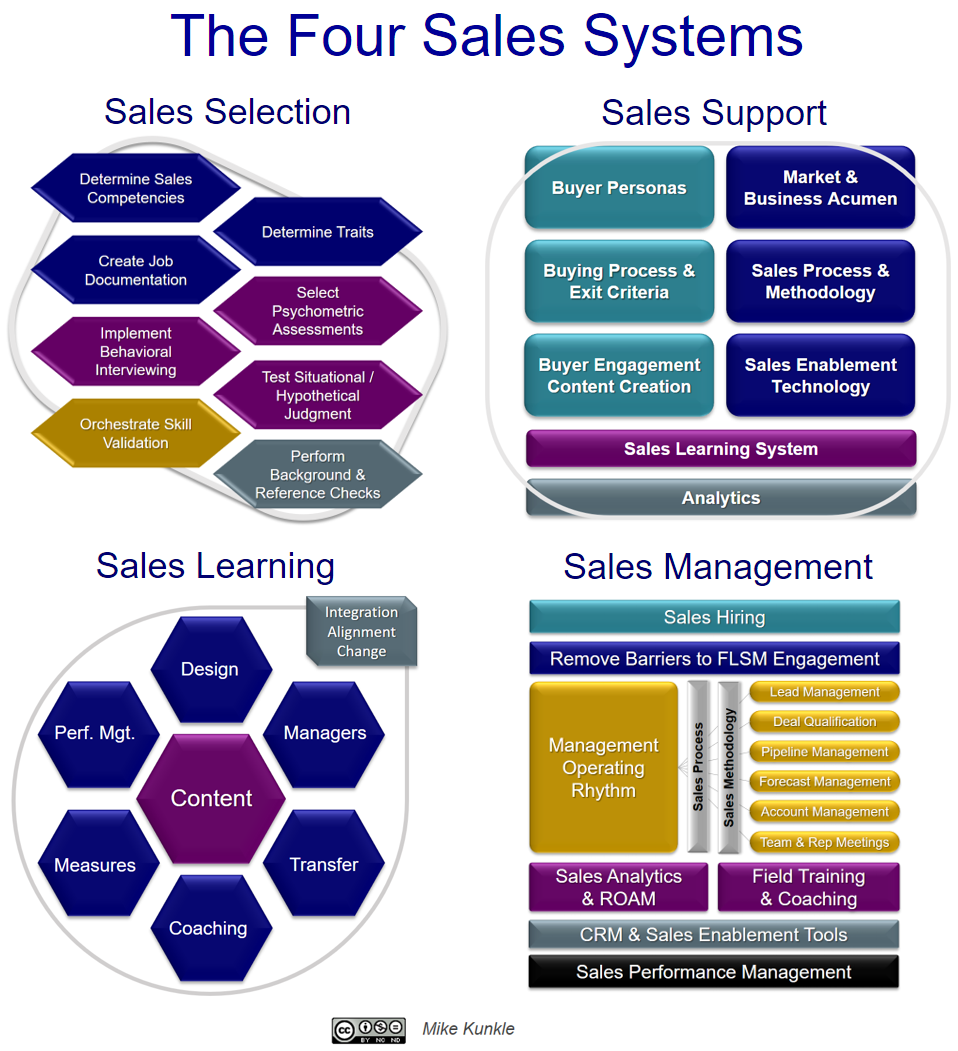 Sales Selection System

Sales Support System

Sales Learning System

Sales Management System
In Part 2 of the series, I detailed the Sales Selection System.
In Part 3 of the series, I shared the Sales Support System.  
In this Part 4 post, I will share the details of the Sales Learning System, which is a subset of the Sales Support System.
The Sales Learning System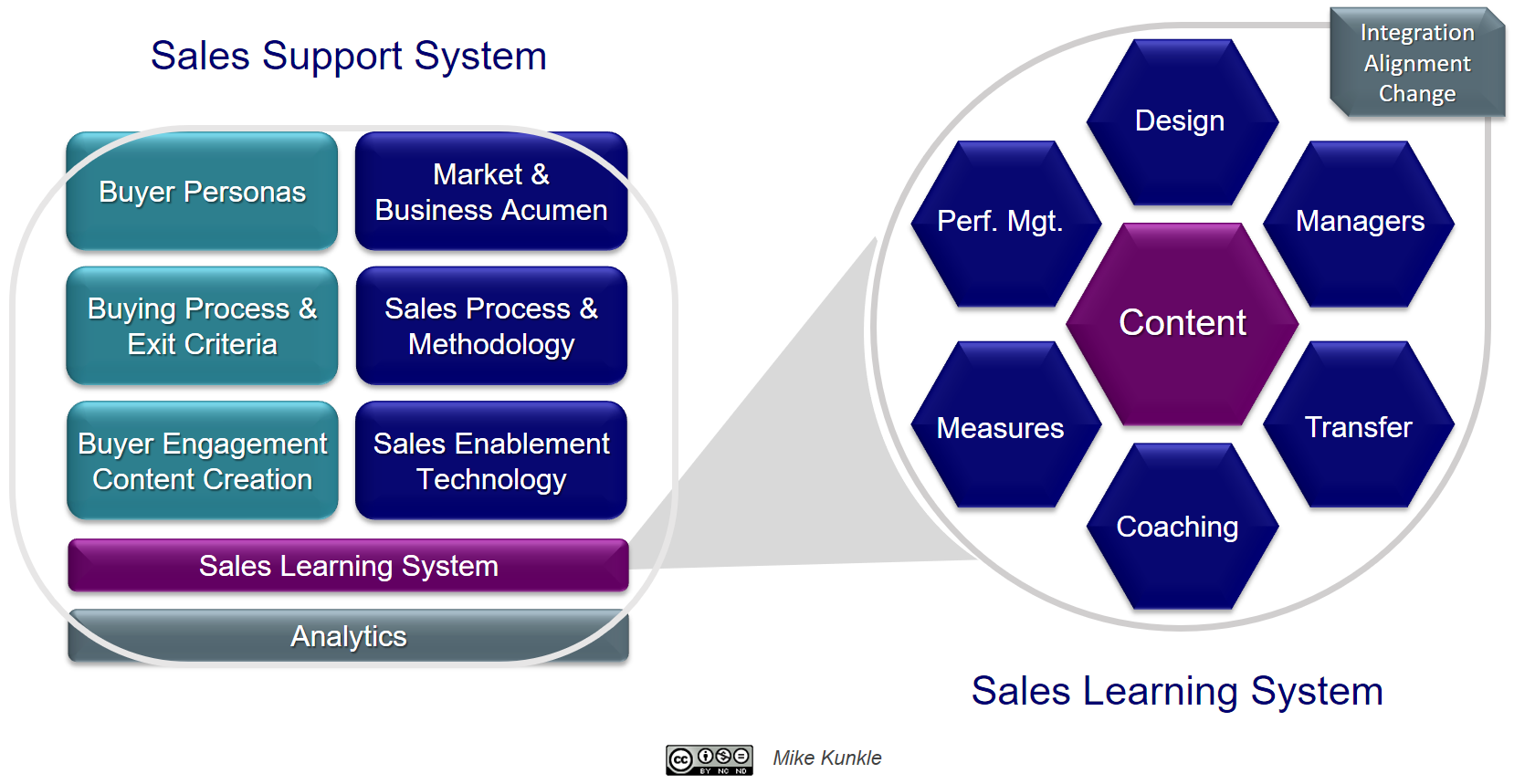 History Repeats Itself
This isn't the first time I've shared the Learning System, so there are many other resources you can access for details:
Learning System Redux, Anew
Given the availability of all that work, I won't go into great detail here, but I won't just redirect you, either. As you can see above, the components of the system include:
The Right Content
Effective Instructional Design
Sales Manager Engagement
Purposeful Transfer Plans
Coaching Excellence
Measurement Plans
Performance Management
An Integrated, Aligned, Change Plan
The Right Content
The best training or learning system in the world can't overcome poor content that won't produce real-world results. When training is the right solution, it all starts here. Training pros will be very familiar with needs and gap analysis, and I strongly encourage Top Producer Analysis to find the differentiating practices between top sales producers and middle producers. Your content should be based on this, or if you use a purchased sales methodology, at least customized to reflect your replicable top-producer practices.
Effective Instructional Design
There is a big difference between presenting information and designing effective training. Much is written on this topic, and I have a presentation on Basic Instructional Design Principles on SlideShare, as well. You should also check out the Successive Approximation Model. Whichever methods you use, my brief recommendations here would be:
Chunk, sequence and layer the content, and assess frequently. (More on that in this post on Sales Onboarding and this recent webinar I did with Brian Lambert of Oxygen Learning.)
Separate knowledge and skill and blend the learning, combining asynchronous learning (training the knowledge prereqs with elearning or other self-directed learning methods), with synchronous virtual instructor-led training and classroom skills-based training (a flipped classroom with much practice, feedback loops, and re-runs).
Use as many simulations as possible to model the real-world and teach how knowledge and skills plug into process and workflow, in-context. (Just like when teaching Microsoft Word… don't just teach the menus, teach the workflow of how to build a document).
If you don't truly understand performance-based instructional systems design, please hire or rent someone who does.
Sales Manager Engagement
You should engage your Frontline Sales Managers everywhere possible (based on the organizational tolerance for it, which, trust me, will create natural limits). Here are some examples.  Sales managers:
Were often the best sales people, so they'll have great content feedback as Subject-Matter Experts and ex-top producers.
Need to develop buy-in for the content and support it enthusiastically with their reps.
Need to understand the content (in as much detail as the reps) and know what their reps are learning.
Must be able to diagnose performance issues and assess whether reps are using the best practices learned in training.
Must be prepared and enabled to field-train, sustain knowledge, help reps apply skills, and coach to mastery (all of which are part of the Sales Learning System).
Purposeful (Sustainment and) Transfer Plans
How do you plan to get training out of the classroom and used on the job? This is where most training fails. In the training profession, the application of what was learned in training to the job, is often referred to as "Training Transfer." Consider:
Reps can't apply what they don't remember, so develop plans to reinforce content and improve retention – aka "knowledge sustainment." (More and more tools are popping up to assist with this, many using spaced repetition and gamification principles.)
Even if they remember, it doesn't mean reps will

use

what they learned. Develop Plans for sales managers to follow-up, help reps prepare to use skills on-the-job, and observe skills in action. You can provide "Meetings in a Box" (aka Manager Toolkits) for managers to run meetings to reinforce concepts and get reps to prepare to use skills with real buyers. Performance support like forms and job aids, or electronic performance support systems (EPS or EPSS), can help with this.
Building training content into Sales Enablement applications/tools or CRM and process workflow, make great sense. Do everything you can to turn the top-producer practices into "the way we do things around here."
Sales Coaching Excellence
This applies generally – good evaluative and developmental coaching skills are required for sales excellence. If I need to convince you about this, you're reading the wrong post. Some ideas:
Coaching on using what was taught (activity) and how well the skills are being used (quality) are a key part of the above transfer plans – but even after the skills have transferred, coaching will sustain and grow the skills.
Sales Managers already should understand the content, but also need to know how reporting and analytics indicate gaps in the top-producer behaviors that were taught, and how to coach to close those gaps.
There is much enablement and support that can be provided to Sales Managers here. While managers are generally sharp folks, we shouldn't assume that everyone will make the dot-connections on their own. You can provide support materials to help them reinforce the training with reps, training on how to diagnose gaps, and how to coach as effectively as possible (and separately, how to manage and lead their teams and exceed at other aspects of their complex and difficult role). I'll share more about this in the next post on

Sales Management Systems

.
Measurement Plans
We all know that what gets measured gets done, so don't leave this out. Measurement addresses what success will look like, and how you will monitor results to determine if you're achieving the desired outcomes or need to pivot. You should:
Include both leading and lag indicators, with verifiable outcomes.
Measure both the learning (progress reports, learning assessments, feedback documentation) as well as post-training performance results (coaching sessions, and metrics that indicate progress or results for whatever behaviors were trained).
Sales Performance Management
Beyond the transfer plans and developmental coaching required to ensure training transfer and post-training success, every organization needs a great Sales Performance Management system. Utilizing what was taught in training (for reps) and coaching and developing reps based on that (for sales managers), should become part of the ongoing performance management in the organization.
An Integrated, Aligned, Change Plan
Think this stuff all happens on its own? I'd say "Think again," but I believe you already know it doesn't work that way. Everyone groans when I say that every sales performance improvement initiative is a change management project, but it's true.
If you've truly designed or chosen content that will lift results if used, it makes sense to create a plan for leading and managing the change necessary to get those results. It's a great start to:
Get the various elements of the

Sales Learning System

together.
Get everyone aligned around them
Provide the training and reinforcement for reps and managers.
Continue the tracking (measurement and reporting) and focus on getting the results you intended.
Over-communicate about expectations, results, challenges, pivots, successes, and what's required to stay focused on the initiative until the change is cemented in the culture and becomes "the way we do things around here."
Without going into greater detail now, but offering the above additional resources, I'm going to stop here for this 4th post in the series on Sales Learning Systems. I hope you've found this post, and the entire series so far, to be thought-provoking, practical, actionable, and helpful.
Author Note:
You can find Part 1 here, Part 2 here, Part 3 here, and Part 4 here and Part 5 here.
_____________________________________________________________________________________
So, as usual, this is what I think. More importantly… What do YOU think?
I'd enjoy hearing your thoughts, experiences, questions, or rants in the comments section. If you enjoy this post, please feel free to share it with others.
Thanks for reading, be safe out there, and by all means — let's continue to elevate our sales profession and evolve, elevate and professionalize the Sales Enablement function.
Mike Kunkle
:: transforming sales results ::
Let's get connected:
_____________________________________________________________________________________
sales transformation | sales force transformation | sales training | sales talent development | sales enablement | sales force enablement | sales manager enablement | sales readiness | sales effectiveness | sales optimization