Sales Enablers: Have you OD'd yet? You Should!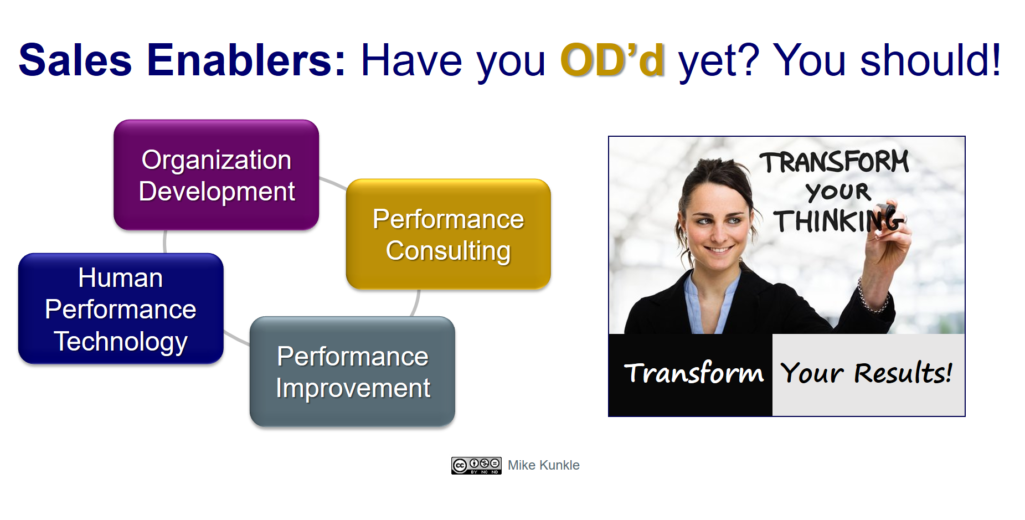 The War on… Sales Productivity?
Based on the sales research results I see (much of which are based on survey results from folks like you), I know it must seem that our efforts to increase sales productivity (defined as "revenue per rep") are as challenging as our nation's initial War on Drugs or Prohibition.
So, with apologies for the play on words, if you want better odds, Sales Leaders, perhaps it's time that you OD.
What is "OD" and How Can It Improve Sales Productivity?
As you've surmised by now, in this context, "OD" does not mean overdose. OD is an acronym for Organization Development.
According the Organization Development Network:
"OD is an effort that is:
Planned
Organization-wide
Managed from the top
Increases organization effectiveness and health
Through planned interventions in the organization's processes, using behavioral-science knowledge.
 It is not a surprise that the unit of analysis for OD practitioners is organization, which means that in OD we focus on developing organization capability through alignment of strategy, structure, management processes, people, and rewards and metrics."
More Alphabet Soup
Another similar approach to improving workplace performance is Human Performance Technology (HPT), espoused primarily by the International Society for Performance Improvement (ISPI). It's also known as Human Performance Improvement (HPI), as explained in this 90-second video.  The Association for Talent Development (ATD) alsosupports a Performance Consulting approach.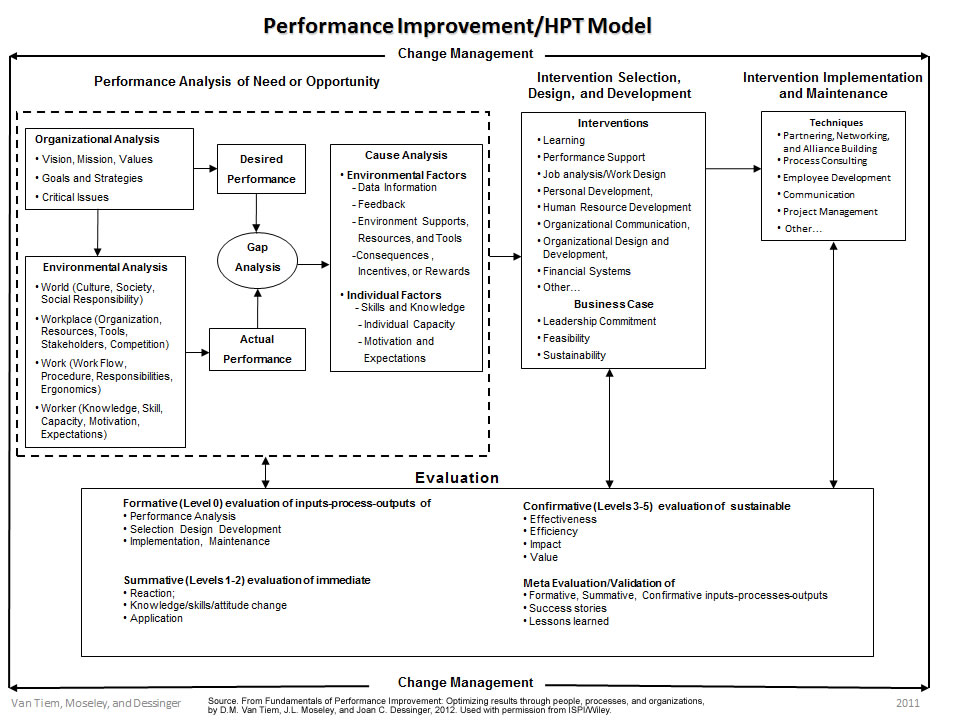 If you step out of the daily whirlwind of business life long enough and suspend judgment about how different these ideas are than what normally happens in sales management, you might be surprised to find valuable approaches that can help you significantly improve organizational sales performance. When you consider the tenants of OD, HPT, and Performance Consulting, there is a gold mine of opportunity here. Words and phrases I'd use to describe these disciplines include:
Organization-wide
Top-down
Systemic
Gap analysis
Root-cause analysis
Data-driven
Evidence-based
Problem-solving
Business case
Intervention (solution) development
Change management
Evaluation
I'd also use the word "effective." This is the stuff that top consulting firms do (and performance consultants). This is the stuff that performance improvement is made of. And, this is what we need more of, in Sales.
Can't We All Just Get Along?
So, why are OD, HPT and Performance Consulting not recognized by more sales leaders and used by more sales performance improvement professionals (training, enablement, operations, effectiveness, etc.)?
"We Have Met the Enemy and He is Us."
~ Walt Kelly, cartoonist, via "Pogo"
Speaking in generalities (with a wide margin for error but also a grain of truth):
People that gravitate toward performance consulting roles tend to be highly analytical, measured, and detailed.
People that gravitate toward top sales leadership roles tend to be Type-A extroverts with a bias for action and bullet points.
Putting the two groups together is sometimes more like mixing oil and water than peanut butter and chocolate.
For anyone who has been around for a while in the sales profession, I'm sure you can see similarities between this and the common misalignments between Sales and Marketing. While that problem still exists in many organizations, the need for alignment gets airplay, at least, and we see progress. Improvements in technology, the blogging of experts in sales and marketing alignment, demand generation practices with better handoffs, and especially Account-Based Marketing and Selling principles have all helped, as have a focus on revenue generation and the advent of a Chief Revenue Officer role.
In contrast, the ineffectiveness of sales training (or more appropriately, the ineffectiveness of the implementations and lack of reinforcement, transfer planning and coaching) gets airplay now, but OD, HPT and Performance Consulting go all but unrecognized in the sales profession (speaking broadly, that is – there certainly are pockets of excellence).
In the long term, enhanced education in business school curricula and an increase in corporate programs on managing performance improvement could help. In the short term, though, we need to find a way to engage and educate sales leaders and sales performance professionals on these methods, and better educate performance consultants on the rigors and stresses of a sales organization and how to more effectively work with sales leaders.
It's Worth the Effort
No matter which side of the fence you're sitting on, I encourage you to start thinking about how we can do this as a profession. The results are worth it.
As an example, I've been writing recently about a Systems Approach to Sales Transformation, and highlighting what I call "The Four Sales Systems:"
Here are some results that companies have achieved by implementing one or more of the systems:
Achieved a $398MM accretive revenue increase in one year from final project completion.
Increased sales 600% annually while decreasing operating expenses by 21%.
Increased sales results 28.7% over previous year.
Increased performance of new hires, so that sales reps with 120 days on the job outperformed a control group of reps with 5 years with the company.
Increased sales per rep by 47% in 9 months.
Improved average profitability per rep by 11% in only 4 months.
Next Steps
I'd encourage you to research OD, HPT and Performance Consulting, if these disciplines are new to you.
If we want to elevate the sales profession, and the supporting professions involved in sales performance improvement, it's time we step out of the dark ages and tap into the large body of work that exists to support us, and help us transform our sales results.
_____________________________________________________________
As always, this is what I think. More importantly… What do YOU think?
I'd sincerely enjoy hearing your thoughts, experiences, questions, suggestions, or even disagreements or rants in the Comments section. If you enjoy this post, please feel free to share it with others. I appreciate it.
Thanks for reading, be safe out there, and by all means — let's continue to elevate our sales profession and evolve, elevate and professionalize the Sales Enablement function.
Mike Kunkle

Let's get connected: